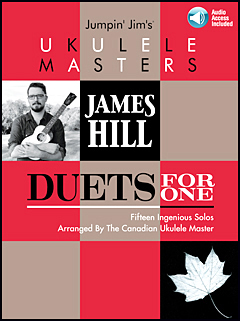 Oh boy, it's here. The latest book in Jumping' Jim's Ukulele Masters series has just been released.
It's James Hill's
Duets for One
.
My fellow students in the
James Hill Ukulele Institute
(JHUI) Ukulele in the Classroom Certification Program and I have known that this was in the works for a couple years. Of course,
James being James
, he neglected to mention that it was coming out under the Ukulele Masters imprimatur. (It's his Canadian side.)
Duets for One
advances the techniques that James teaches in the JHUI as well as through his online
The Ukulele Way
series. It's a style of solo playing that really makes you sound like two players: one on melody, the other on chords and rhythm.
The first 50 copies sold on the
Fleamarketmusic site
are numbered and signed by James. I can't wait to get it.