Monday, October 17, 2016
Nice article on Kamaka Ukulele's 100th anniversary this year.
Link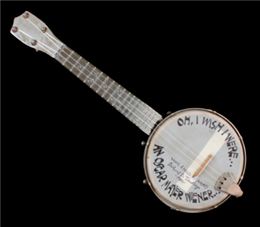 Sorry to learn of the passing of Richard D. Trentlage, erstwhile banjo-ukulele player and composer of the beloved Oscar Mayer Wiener jingle.
Read about Mr. Trentlage's storied career and see one of the original TV spots at he
The New York Times
.
Here's
an article
from the 50th anniversary of the song in 2012.
And finally, a link to the final resting place of Mr. Trentlage's Werco banjo-ukulele (pictured above), upon which he composed The Oscar Mayer Wiener song, at the
Wisconsin Historical Society
.
(
photo: Wisconsin Historical Society
)
Friday, October 14, 2016
Ukulele Orchestra of Great Britain member Peter Brooke Turner''s alter ego Tony Penultimate in a little Dylan tribute, shot in an airplane lavatory. Congrats on The Nobel, Bob.
Tuesday, October 04, 2016
Ukulele demi-god and erstwhile rock star
Todd Rundgren
was recently artist-in-residence at Notre Dame in South Bend, Indiana. Before he left, he gifted the children at the local homeless shelter with ukuleles of their very own.
The gift was made through Todd's
Spirit of Harmony Foundation
.
Here is a link to a story in the
South Bend Tribune.
Well done, sir. Hats off!
The above video is Todd performing his version of an ancient Hawaiian war chant. Which you may recognize.