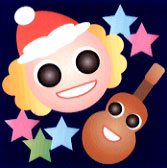 Time to hang the mistletoe and get ready for all the adoration sure to come your way when you serenade holiday revelers with your uke. Here for your convenience are direct links to just about every Christmas song imaginable (or at least those that we could think of and find on the Web). Browse around and you're sure to find chords, lyrics and tabs (tablature) for your favorite novelty song or carol.


From Risa, makers of the swell Uke Solid
Compiled by Jerry Dallal
From Dominator
From John King
From Joseph Todaro, father of the Akulele
Mele Kalikimaka (low G arr.) from Mark Occhionero!
From UFO of Marin
From The 4th Peg
From Ukulele Boogaloo
Courtesy of Fleamarket BB Posters, tips for jazzing up Jingle Bells!
From The Guitar Guy, Christmas Standards
If you know of any others, please drop me a note. Mele Kalikimaka!