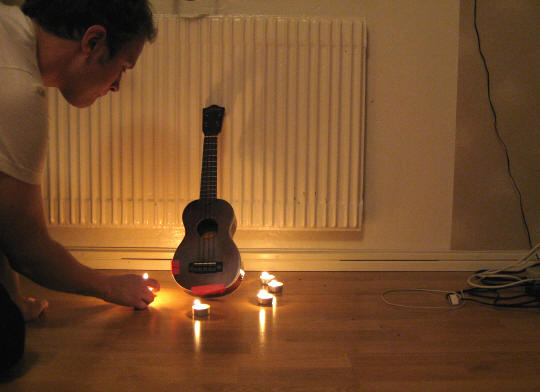 Jens Lekman has decided to give up the ukulele. While we here at Ukulelia might question his decision, the fact of the matter is that some lucky person will be one free ukulele richer if they win his contest:
"How did I become so associated with this instrument, the Ukulele ? Well, to start with I brought it along for almost every show the last two years, instead of trying to recreate the sound as I had it imagined and realised on the records. For me it was never the history, the George Formby, the Tip Toeing Through The Tulips with Tiny Tim that brought me into it. Sadly, it wasn't even a real love for its sound. It was laziness, people. Good old laziness. It was the idea of being able to travel the country with the ukulele hanging over my shoulder, no big hardcases, no messing with the airline crew, no worrying about the baggage guys dancing polka on it. I loved that image in my head, it went so well with the strawhat I wore back then.

"For me, my Ukulele, is somehow standing in my way. Because it never was a part of my music as I imagined it. It doesn't lead me anywhere anymore. So if you want it (it's free) , here's what you have to do: Go on a vacation, somewhere you've never been before (doesn't have to be far away), and send me a postcard with your adress."

The deadline is in one week.
Link